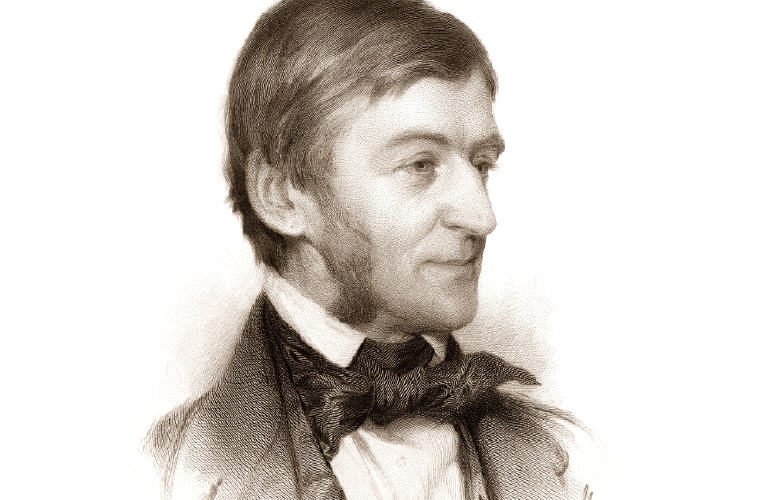 Ralph Waldo Emerson
For most of America, Transcendentalism was a literary movement. However, in fact it was a theological and spiritual revolution within American Unitarianism and only incidentally a literary phenomenon.
As it is with movements of various sorts there are any number of moments that could be named the "beginning" of Transcendentalism. The 1836 publication of Ralph Waldo Emerson's essay Nature is probably the most common.
As it happens today, the 25th of May, in 1803, is Ralph Waldo Emerson's birthday.
He was in Boston, Massachusetts. His father William was a Unitarian minister. He was the second of five sons who would live into adulthood. William died before Ralph turned eight. His mother was joined by his aunt Mary Moody Emerson and other women in the family who provided the boys with a solid home. He attended Boston Latin and then, as was how it went in those days, at fourteen he entered Harvard.
In his senior year he decided to use his middle name Waldo. At eighteen he graduated and began a career as a school teacher. Plagued by poor health he lived for a time in South Carolina and then in Florida. In Florida Waldo had his first experience of slavery. He also made an intellectual friend in a nephew of Napoleon Bonaparte, Prince Achille Murat. The two had deep conversations about life and poetry and philosophy. In later years he would credit the prince for launching his intellectual life.
In 1824 Waldo returned to Harvard for the course in divinity. In 1829 he accepted the invitation to serve as junior pastor of the Second Church in Boston. He was also chaplain to the Massachusetts legislature. He married, but his wife, Ellen died within two years.
Perhaps triggered by his wife's death he began to question his usefulness as a parish minister. A disagreement over presiding at communion led him to submit his resignation in 1832. Whatever the depth of his disagreements about the eucharist and its public celebration, it has been noted it was as good a reason to leave the parish as any.
Emerson toured Europe, where he met many of the leading intellectual lights of the day.
He returned to the United States in 1833, living for a time in Newton with his mother, before settling in Concord. From there he launched a career as an author and public lecturer. He proved wildly successful.
At the same time as he published Nature he joined with with Frederic Henry Hedge, George Putnam, and George Ripley, agreeing to a regular gathering. This would come to be called the Transcendental Club. They met at first at the home of the lay Unitarian George Ripley, and later at the bookstore owned by Elizabeth Peabody.
Among the members besides those already listed were Sophia Ripley, Margaret Fuller, Bronson Alcott, Orestes Brownson, Ellen Sturgis Hooper, Theodore Parker, Henry David Thoreau, William Henry Channing, James Freeman Clarke, Christopher Pearse Cranch, Convers Francis, Sylvester Judd, and Jones Very.
For Transcendentalism as a religious expression we can look again to Emerson. On July 15th, 1838, he was invited back to his old school to give the graduation address. He did.It is remembered as the Divinity School Address. And it proclaimed what some called the "new infidelity."
With the conventions of Unitarianism, he reasserted the humanity of the good and great teacher Jesus. The first wave of Unitarianism in the previous generation, was nonetheless deeply rooted in biblical Christianity. Indeed the rejection of trinity was mainly because there was, beyond a Medieval interpolation, no explicit statement of a trinitarian doctrine in the scriptures. Still, they continued to assert the proof of the Bible were the miracles reported within the text. Emerson made sure to underscore his Unitarianism was not a form of Arianism, where Jesus is lifted to a "demigod" status. His term.
Emerson's Divinity School Address dismissed the idea that the reports of miracles in the scriptures were proof of the truth of the teachings to be found within them, and with that explicitly rejecting the necessity of scripture as divine revelation.
Instead he declared that the intuition of the individual was sufficient to find one's way.
This created a firestorm within Unitarianism. A fire that has not yet burned itself out.
While there would be a variety of views held among the Transcendentalists, personally I'm much more influenced by Henry Thoreau's "thing in itself" than Emerson's platonism, one thing was certain. In this crowd of New England Unitarians, something incredibly important was happening.
Something that would profoundly influence, for good and for ill, and I will happily assert vastly more to the good, the rising spirituality of America.
So, blessings upon you, Ralph Waldo Emerson. You did good…